From stage to screen.
Falcon Theatre (League of Cincinnati Theatres member) is a professional theatrical company in Newport, Kentucky. I pitched a complete redesign + rebrand: property interior and exterior, new logo, experiential video graphics, and window displays.
THE STARTING POINT began with a general walkthrough – from sidewalk to lobby to stage – where I took dimensions, sketches, and photos:
PROCESS SHOTS HERE.
The theater had a great vibe, sitting right on Monmouth (the main drag through Newport) – known for it's eclectic mix of shops, restaurants, and entertainment venues. The Falcon's position alone had great potential to create interest for vehicular and pedestrian traffic, but it had to stand out from the the other unique street facades. I felt that creating an all-encompassing design theme was necessary, based around a thoroughly unique, fictional bio.
ILLUSTRATED STORY TITLE HERE.
DEVELOPING THE STORY was the crux of the project. I wanted to create a thread that traveled from the history of the region through to the building itself – blending fiction with reality to sell the concept to the audience.
Placing the story origins in the 19th century made sense due to the historical architecture of the area and Newport's notoriously seedy past. The boom industry and advertising of the era, along with city's foray into "gangster draws", led to a fictional character-centric story similar to that of Doc Holliday. Read the synopsis below.
Newport, Kentucky – a town at the intersection of the military and the mob, and also home to one of the most prominent "snake oil salesmen" of the 19th century.
With foundations as a 19th century military post – the Newport Barracks – and a hotbed of mob activity in the early 20th century – home of the "Tommy gun" – violence, gambling, and other forms of "entertainment" were as common as a morning meal. Still, the approaching Industrial Age brought advances in science, technology, and medicine – elixirs (with varying degrees of effectiveness) – to these personal and societal problems were devised and offered.
By the mid-19th century, with the lure of Newport's growing population (and proximity to nearby Cincinnati), solicitor's came en masse pitching products in reflection of the Ohio River – and the nation's – industrious boom. Of these merchant men, one stood out... more for his pitch than his product: Colonel Henry "Doc" Taylor's Traveling Medicine Stage & Show.
Perched at the mouth of the Licking River, Doc Taylor would draw large audiences to his famous stage performances. As opposed to other traveling "snake oil salesmen" of the time, he was perceived as more trustworthy, mainly because of his association with the up-and-coming Procter & Gamble Enterprises across the river in Cincinnati, Ohio. He sold products that worked... most of the time.
He also knew the pitch was worth much more than the product, and so developed larger scale productions – creating long-form stories and presenting them through small stage shows with tie-ins to his products, which were then sold after. Thus, he became a forerunner of the subtlety and mastery that is known today as "product placement". Through this technique – a reputable name with an interesting show – he made made a fortune twice, through prescription AND admission. (Procter & Gamble later played off of Henry's successes by creating the Soap Opera, placing their products within the shows, and intertwining longer form commercial interstitials showcasing these products between the acts.)
Charging admission to shows was unheard of for salesmen at the time – a free show was usually the lure to get the audience to buy the product. But advertising and showmanship were Doc's specialties, and he became as well-known for his shows as he was for his curables.
According to local legend, he would travel up and down the Main Streets of the age, stopping occasionally to preach the virtues of his products, but also to pitch his upcoming events. He would draw onlookers by standing on his Ivory soap box in the middle of the street, and sending his trained falcon to circle the street overhead, which would then come screeching back to rest on his hand - drawing excited onlookers en masse. More effective than all of the bulbs on Times Square.
During his early days in Newport, Doc's "stage" resided on a crest at the mouth of the Licking River – where the Licking meets the Ohio. This was a fantastic setting, as he and his actors would perform to the backdrop of the burgeoning downtown Cincinnati, rising skyline, and riverfront port with dozens of massive, docked steamboats. The activity and anticipation of the area was enough to sell anything, as Doc would present the latest medicinal, and then point north towards P&G's factories, as if giving it substantial, tactile validity.
As time marched on, Doc continued to build upon his success and expanded his draw into nearby river cities such as Covington, Dayton, [and other Cincinnati river communities]. It was a far trek for folks to visit his shows, but they still came. He moved his stage from the banks of the Licking to the heart of the town, purchasing a newly built brick-and-mortar establishment on Monmouth Street. As more people came, and his pockets became bigger, so went his ego. Doc felt as though he was more valuable than the products he was still selling, and thus demanded more from Procter. But, the Procter & Gamble Company's steady growth meant they relied less on the traveling salesmen, and this combined conflict pushed their relationship to the tipping point. The general public knew nothing of the falling out when it happened, but they would soon become painfully aware.
Doc's working theme had always been "peddling through production", but without the big name of P&G to support this venture, he was at an immediate disadvantage. He attempted to run stage shows for awhile that promised no new cure – just offering the show as entertainment – without much success. He then enlisted the help of collaborators, such as his contacts with [famous actors and musicians]. He even hosted an up-and-coming Walt Disney and his traveling show for a few days. Still, without the residuals from the sales of products coming in, these successful performances were no match for his once lucrative joint venture. He needed a great product again...
One evening, in the second floor of his building – his apartment home above the stage – Doc concocted his own elixir. A supposed cure-all branded with his famous name: Colonel Taylor's Magic Elixir (Furniture Polish, Hair Gel, and Wart Remover).
Centered around a curious stage show (as always, written by himself), Doc pitched the product and watched the money start to roll in like it used to. Until the third show, when... it didn't.
His stage shows historically ventured around five runnings – frequently longer (as when centered around top-selling products, like Ivory Soap) – so this short stint was extremely unusual. Word spread fast of this debacle, as his once thriving business had met a two-headed beast. Once-loyal customers spouted fiery reviews of burned skin, hair loss, destroyed furniture, and most hurtful, a bad show – his homegrown product and self-written script had now both come under the irons. He had insulted his loyal audience, and the once thriving venture had now been branded negative; a scam, a hoax, a bore – a complete failure.
They say in the show business that you are only as good as your last show, and this is likely where the saying perpetuated, as Colonel Henry "Doc" Taylor's once-famous name quickly became infamous.
Shuttering his business and pulling down his sign, Doc lived the next few years on his savings from the good old P&G days, but soon became penniless. Eventually, his building doors were locked and windows shuttered, and no one heard from Doc again.
Many decades later, at the height of modernity and gentrification, his building was scouted for rehab by the City of Newport. Upon inspection, developers found an abandoned structure in disarray, with nothing more than some personal belongings on the second floor – a bed, a desk, and an empty wire bird cage atop an old Ivory soap box.
A VISUAL THEME started to draw itself out once I considered a complete rebranding. This started with a new logo pitch, to complement the new brand story and design aesthetic. This can be seen in the signage samples below.
INTERIOR HOUSE and stage areas were fairly tight as well, with informal seating and risers under construction. I proposed reducing the house number slightly by adding larger and more comfortable dedicated seating, along with other finishing details.
SEATING ILLUSTRATION HERE.
INTERIOR LOBBY areas were limited in space with modern dark tones (black walls and purple drapes over plaster), with an array of past showcards in grid on the walls. In the entry, I suggested aging the space with natural materials such as dark woods hinged with iron accents and turn-of-the-century lighting. Additionally, areas to highlight just a few of the more well-acclaimed shows.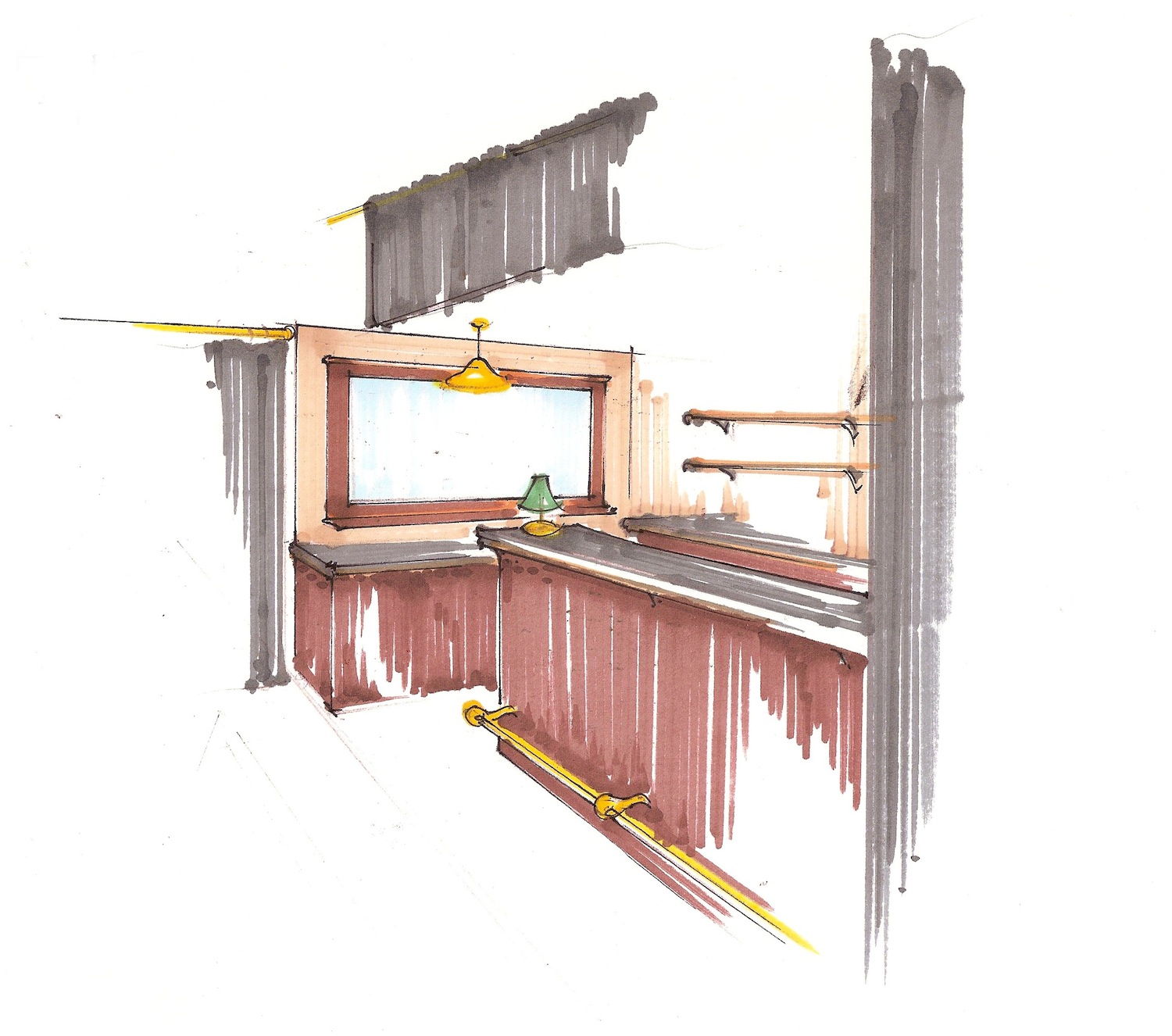 INTERIOR SIGNAGE was also on the list. Taking the artwork placards from past shows, slightly activating them through animation, then placing them within the prominent frames in the lobby – essentially these would be kinetic lobby cards. Below are are few examples of this.
LOBBY CARD VIDEOS HERE.
EXTERIOR WINDOWS (front-facing, street level) also needed something to help market the theater and attract the passing public. I'm partial to dimensional, kinetic window displays, and this concept would have meshed well with the business' theatrical nature and Ted's tech background. Only one window box could be used, as the other was for additional lobby seating, so I proposed the following interactive display.
WINDOW DISPLAY VIDEO + ILLUSTRATIONS HERE.
THE FACADE also needed improvements. Along with simple streetscape beautification, I suggested new paint and awnings to complement the overall design concept.
FINAL TOUCHES included cohesive video marketing and displays, as there are several screens throughout the lobby (indicating time of performances, rates, and seating). Not only animating the logo, but continuing the brand's aesthetic throughout any/all videos (animated show posters, coming attractions, schedules, etc.). Below is a sample of some marketing collateral reflecting the brand story (fictional cartography).
MARKETING COLLATERAL DESIGNS HERE.
THE FUTURE looks bright for Falcon Theatre, as Ted continues to invest in the building while housing successful events and increasing viewership year after year. Actualization of these concepts are still under consideration amid ongoing development.
FOLLOW the Falcon Theater's schedule here: Website