Line jumping.
Art Direction | UI / UX Design | Icon Design | App Animation | Motion Design
SKIP is a mobile shopping app, founded by Chase Thomason (GoSkip LLC).
The SKIP app is a great concept and will soon be a great service. Early development was successful, resulting in significant initial backing (Microsoft, P&G), yet rounds of in-store testing and other market research indicated that they needed a new visual direction. The team contacted me (ROSSLANDS) to help them with a redesign - app UI, logo, marketing videos - and together we created a cleaner, more refined look paired with a simpler overall user experience. Below is a synopsis of that work.
PRELIMINARY WORK involved helping the SKIP team through the final stages of The Brandery startup accelerator (Class of 2015) - their final pitch presentation. They developed a new (temp) logo with agency help, but still had assets representing their old look, so I had to try to quickly "re-skin" some footage and stills with their new logo and colors. You can see the mesh of styles during their "Demo Day" presentation, below.
The overall redesign was in full swing after completing the accelerator class requirements. A new logo exploratory, app redesign, and marketing videos were on the horizon.
ICONOGRAPHY came first - initially, with a logo exploratory (planned to replace the agency branding). After several rounds of development, we neared a final look, but due to time constraints of upcoming events the original logo was temporarily retained. Still, we pushed some of those ideas through to the icon designs (which went through several rounds of revisions as well). Final iterations shown below.
THE NEW UI DESIGN was developed in tandem with the iconography, and was a major undertaking. This entailed redesigning all screens while also revamping the UX story. Overall, we were simplifying the design from the previous iteration, but it still demanded detailed processes, multiple revisions, and heavy collaboration. This was a laborious but enjoyable, and ultimately rewarding, leg of the journey. Some example screens can be seen below (click on images to view larger).
A STYLE GUIDE was then created to relay specs to the developers. This defined everything about the visual design of the app – the layout, sheets, buttons, typography, and color. It was a large undertaking in and of itself, due to the precision and corrections needed to maintain continuity across the app . A few slides from the 10-page guide are shown below.
In record time, we completed nearly every part of the app redesign (plus other assets) prior to SKIP's attendance at "Retail's BIG Show" National Retail Foundation 2016, which was the goal.
NRF 2016 was an important step in presenting the new design, and as shown below, it was successful in finding partnerships with retailers and the public. Requirement of me for this event were not only to exemplify the new working app, but to provide a looping presentation video to help pitch the product.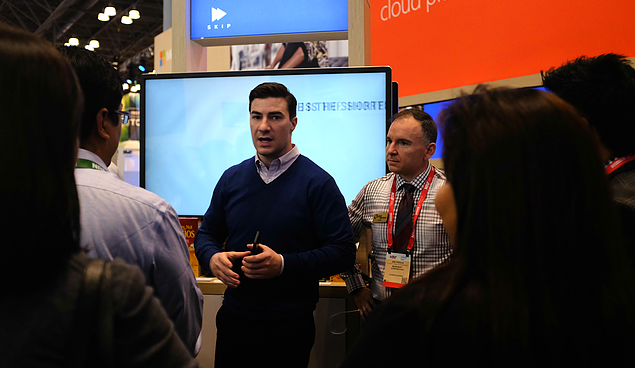 THE EVENT VIDEO essentially acted as an ad hoc team member for their show booth – providing continuous service details and exemplification. It was an iteration of the larger explainer video that we had planned, but was produced under a very short timeline. The result was this reserved version (as opposed the quicker and more creative presentation of a web-based explainer video), not only to give the viewer more time to absorb it, but to limit distraction from the live presentation in the foreground.
Again, in comparison to the explainer video that I had begun to develop, the event video needed to be pared back, just hitting the highlights. The team provided these key points as a basic script, but everything visual was built from scratch – simple logo animation, background elements, character design and animation, phone and app construction and animation, and of course, overall audio and video editing. Additionally, since this was to be a looping video, the front and back also had to be seamless. Watch below.
A PRESENTATION was also required of SKIP at NRF. I provided a few comps highlighting some of the app capabilities - animated reenactments of the app behavior – which lived in pieces across the formal Keynote, presented by Chase on stage. You can view these examples below.
Partnerships with major retailers were a result of this venture. This unique and powerful mobile concept, saddled with the successful design and development of this app, equates to optimism for the future of SKIP. See the app in action below.
DESIGN DEVELOPMENT has continued to move this app to new aesthetic territories, as the SKIP team is continually interested in the full design spectrum: UI, UX, and coding. The latest iteration involved an in-house UI redesign, while I tackled the 2016 presentation video (with some UI animation), as shown below: